LAST UPDATE: November 19, 2020
If you have not heard already Governor Polis and Jefferson County will be moving us to level red on the "CoVid Dial."
 As you can see they have modified the dial from last time to include a new level. Fortunately this will not affect our church services on Sabbath. This will affect other events that have been planned. More info below.

"Effective Friday, November 20, 2020 at 5 p.m. the Colorado Department of Public Health and Environment (CDPHE) will move several Denver Metro counties, including Jefferson County, to "Level Red – Severe Risk" in the COVID-19 Dial Framework. The COVID-19 Dial Framework has also been modified to include several key updates based on the best available evidence for slowing transmission of the virus."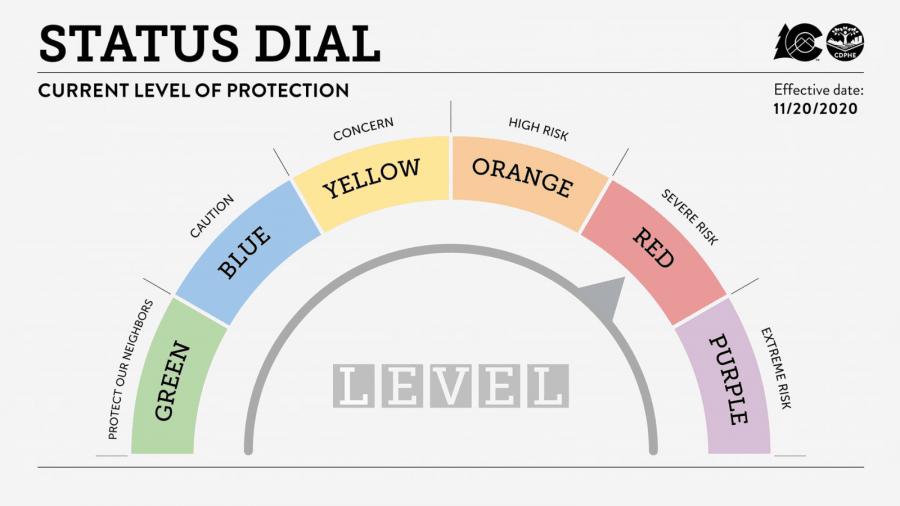 Some key changes for us under the state's updated Level Red requirements include:
For more complete information on this update you can visit  https://www.jeffco.us/4156/Press-Releases
We ask that you will continue to pray for the church, the leadership, our ministries, and our government officials at all levels. We pray that we will not be moved to level Purple where we would then have to close down the church for live streaming only.

For questions and concerns please email us at goldensdachurch@gmail.com.